Email us for orders. We currently don't have the capability for direct online ordering for all items as many of our pieces are one of a kind. We are quite willing to send out swatches or digital pictures for color and pattern. See our Square Market for availability.
Payment can be made in one of several ways:
Check or money order (US funds) made out to "Thorny Rose" and mailed to the above address
Credit cards can be used in our Square Market. or via email or phone.
Email for more information, accepted card logos below
Paypal-- please use rosamund@thornyrose.com to send funds
Please contact us for availability before remitting payment.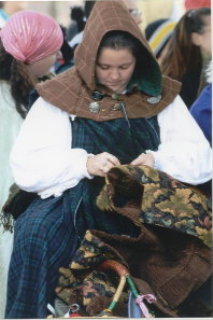 At the Pennsylvania Renaissance Faire - out at a show (yes, even when out for fun I can't resist taking work with me.)
Picture by James Gregory